GOVSATCOM in action - successful demonstrations 
How to best explain what the EU GOVSATCOM is all about? Definitely, by showcasing the actual use of secure satellite communications by governmental actors in the context of specific operations. But, how to conduct these demonstrations in the most convincing manner and close to reality? The way to succeed is to involve governmental users, who rely on secure satellite-based connectivity, and deploy SatCom space resources and ground infrastructure that belong to the EU Member States. That's exactly how ENTRUSTED went about it!
Demonstrations of live satellite connectivity in the context of specific use cases are key knowledge-sharing and educational activities accomplished in the scope the ENTRUSTED project, in addition to the online training and project workshops. The overall aim of demonstrations was to showcase the benefits of secure SatCom capabilities to prospective GOVSATCOM users. Preparatory activities for GOVSATCOM demonstrations focused on the following objectives:
Objective 1 – Demonstration of a pooling and sharing service provision model.
Objective 2 – Access to telecommunication services in remote areas where terrestrial network is not available.
Objective 3 – Effective access to secure satellite communications in crisis situations (provision of capacities and/or terminals).
Objective 4 – Provision of highly secure telecommunication services in terms of confidentiality, integrity and availability.
The most effective way to create the demonstration content which could be shared with a wider audience, even after the ENTRUSTED project is completed, was to create videos documenting real-time satellite connectivity. Live satellite connectivity was also demonstrated during a dedicated event in March 2023.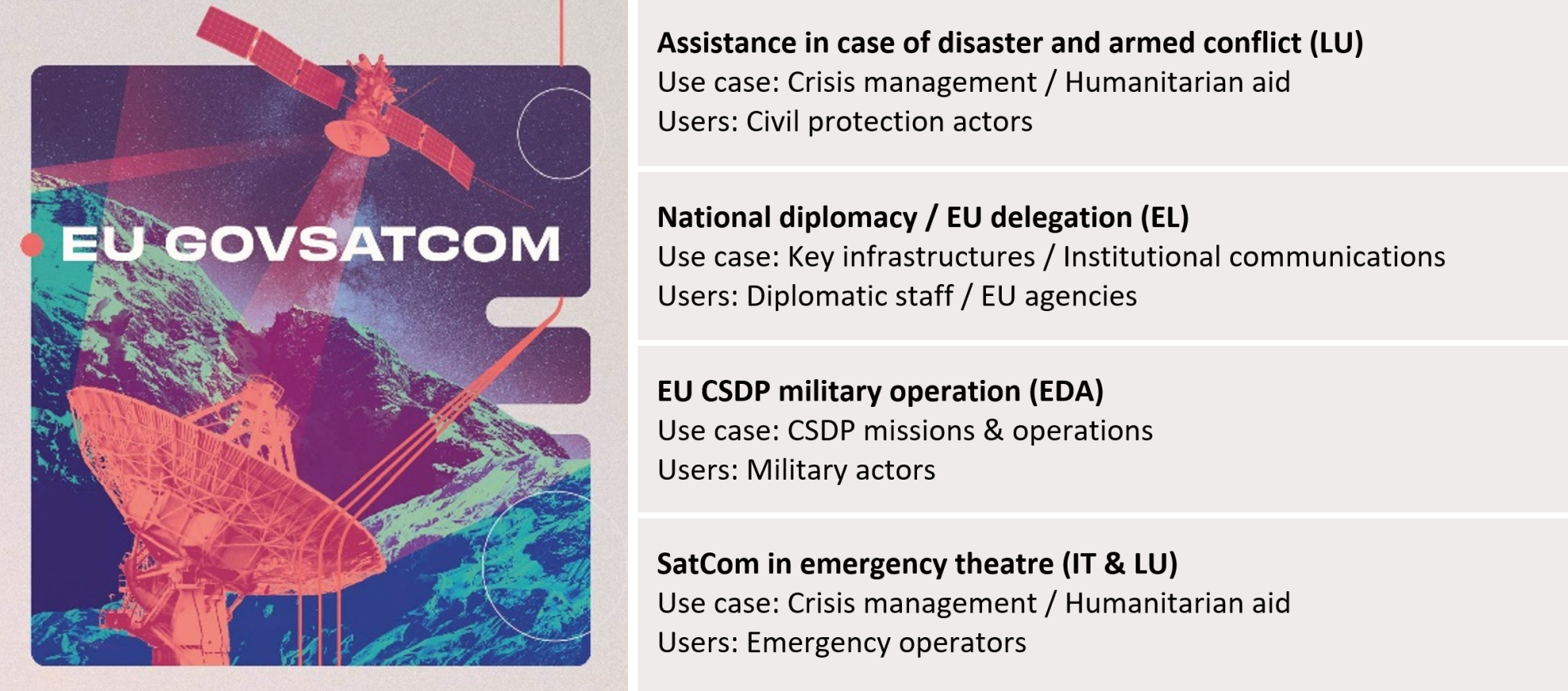 All demonstrations were prepared and implemented by the following ENTRUSTED Consortium members:
Italian Space Agency (ASI)
Luxembourg Space Agency (LSA)
Hellenic Ministry of Digital Governance (MinDigital) and Hellenic Ministry of Defence (MoD)
European Defence Agency (EDA)
Such an approach has made it easier for prospective users to relate to at least one of use cases and recognise benefits offered by secure SatCom, which include:
Connectivity in areas where other means of communications are not available;
Fast deployment;
Possibility to integrate satellite and terrestrial networks;
Service for governmental users independent of commercial payloads.
---
Assistance in case of disaster and armed conflict (by Luxembourg / LSA)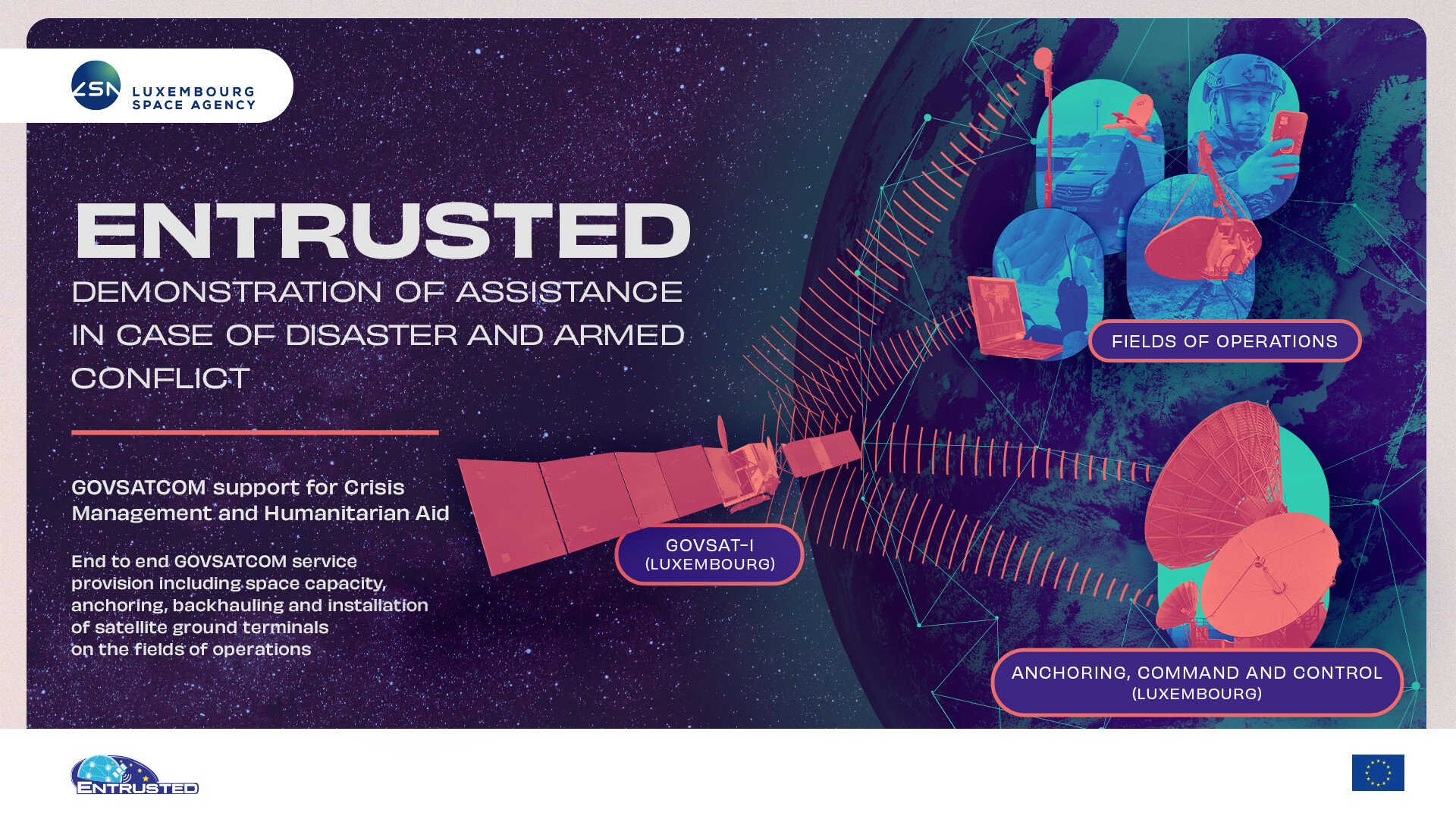 A guaranteed access to telecommunications in crisis situations is of key importance to civil protection services. Such missions are normally carried out in difficult environments and circumstance, when standard communication capacity has been destroyed or is unavailable. The Luxembourg Space Agency (LSA) has shown how rapidly the satellite connectivity can be provided to governmental users who deal with the aftermath of any natural disaster, or in an armed conflict.
In this operational scenario: 
A civil protection unit has got a binding contract with a GovSatCom service provider, and a specific service level agreement (SLA) is already in place. The SLA includes the leasing of ground segment equipment, such as the rapid response vehicle (RRV), the VSAT antenna and the manpack.

By the arrival at the area of operations, the capacity is booked and activated from the user's headquarters through the REACH web platform.

 

Next, the user deploys local infrastructure in the field. With the established satellite connectivity, it is possible for two teams to communicate between themselves and with their headquarters. A secure Wi-Fi is provided via both the RRV/VSAT and the manpack, allowing for Internet browsing and communication using computer and smartphone applications.

 
Demonstration was recorded in a rural area which is not served by any terrestrial networks. It takes only 13 minutes to set-up the fly-away antenna, which automatically begins to point the GOVSAT-1 satellite. Additional 4 minutes are required to establish the end to end satellite link in X-band. The video shows the actual sequence of activities that are performed in the field. 
---
Secure communications for national diplomacy network (by Greece / MinDigital & MoD)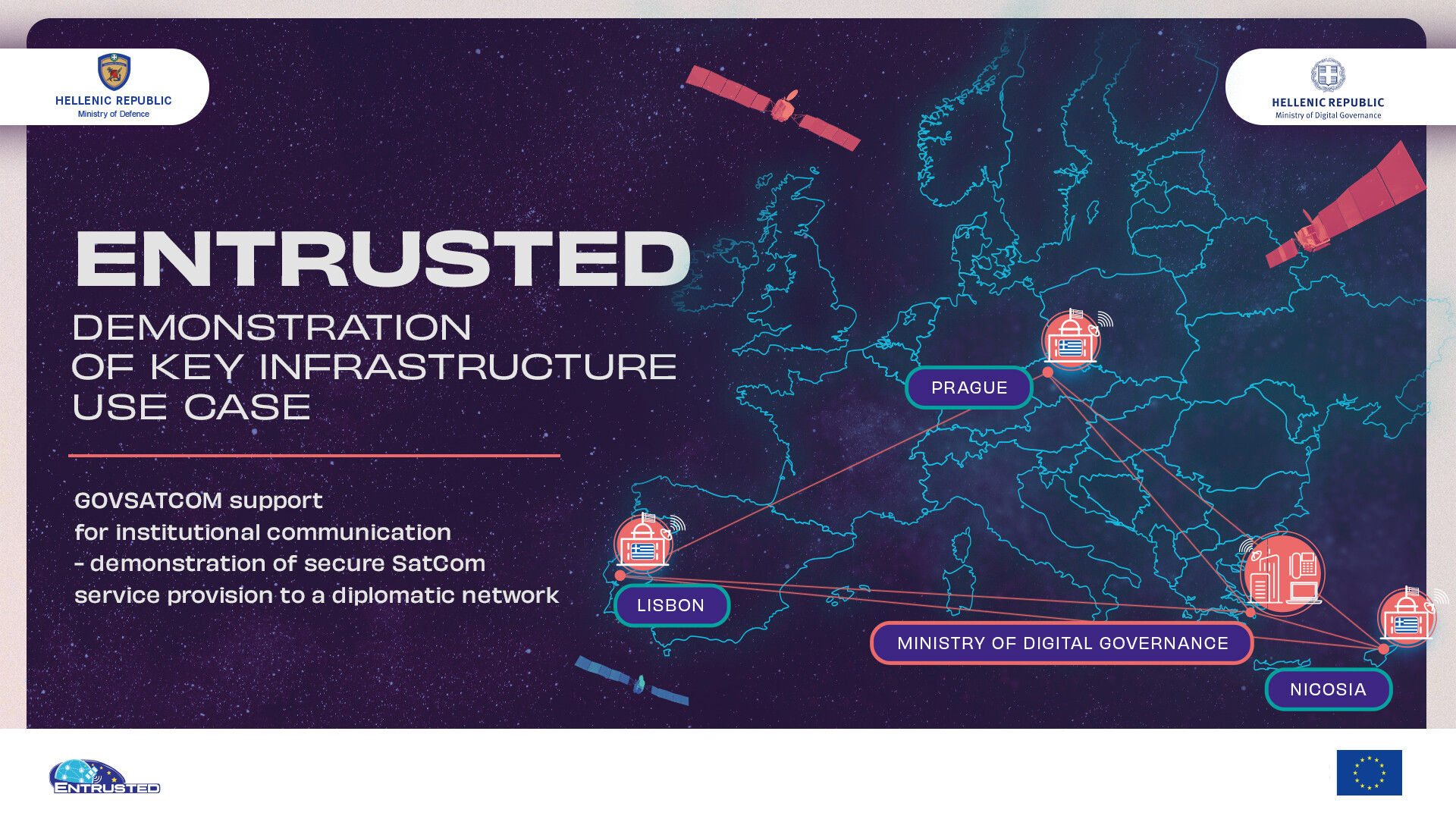 Secure satellite-based connectivity is expected to support sensitive communications between governmental and EU institutions, which require access to continuous, reliable and secure telecommunication services. Diplomacy represents another area of governmental activity where connectivity represents a strategic asset, as it can be exposed to vulnerability.
The operational scenario assumptions were as follows:
The necessity of providing the Greek government  with reliable and highly secure communication means to exchange confidential information with its embassies in the EU, in the event of any interruption or unavailability of services provided through terrestrial telecommunication networks across Europe
Establishing satellite communication between the Ministry of Foreign Affairs and Ministry of Digital Governance, through Hellas Sat capacity in Ku-band and the GreeCom Satellite Distribution Centre (Hub), with remote terminals installed in embassies in Lisbon (Portugal), Prague (Czech Republic) and Nicosia (Cyprus).
Using a secure video-conference application to exchange information between users.
Hellenic Ministry of Digital Governance and the Ministry of Defence have proved that governmental satellite communications guarantee the confidentiality, integrity and availability of transmitted information within a diplomatic network. GOVSATCOM services will be invaluable when decisions are to be taken fast and the connectivity needs to be secure.
---
Access to GOVSATCOM services for military users (by European Defence Agency)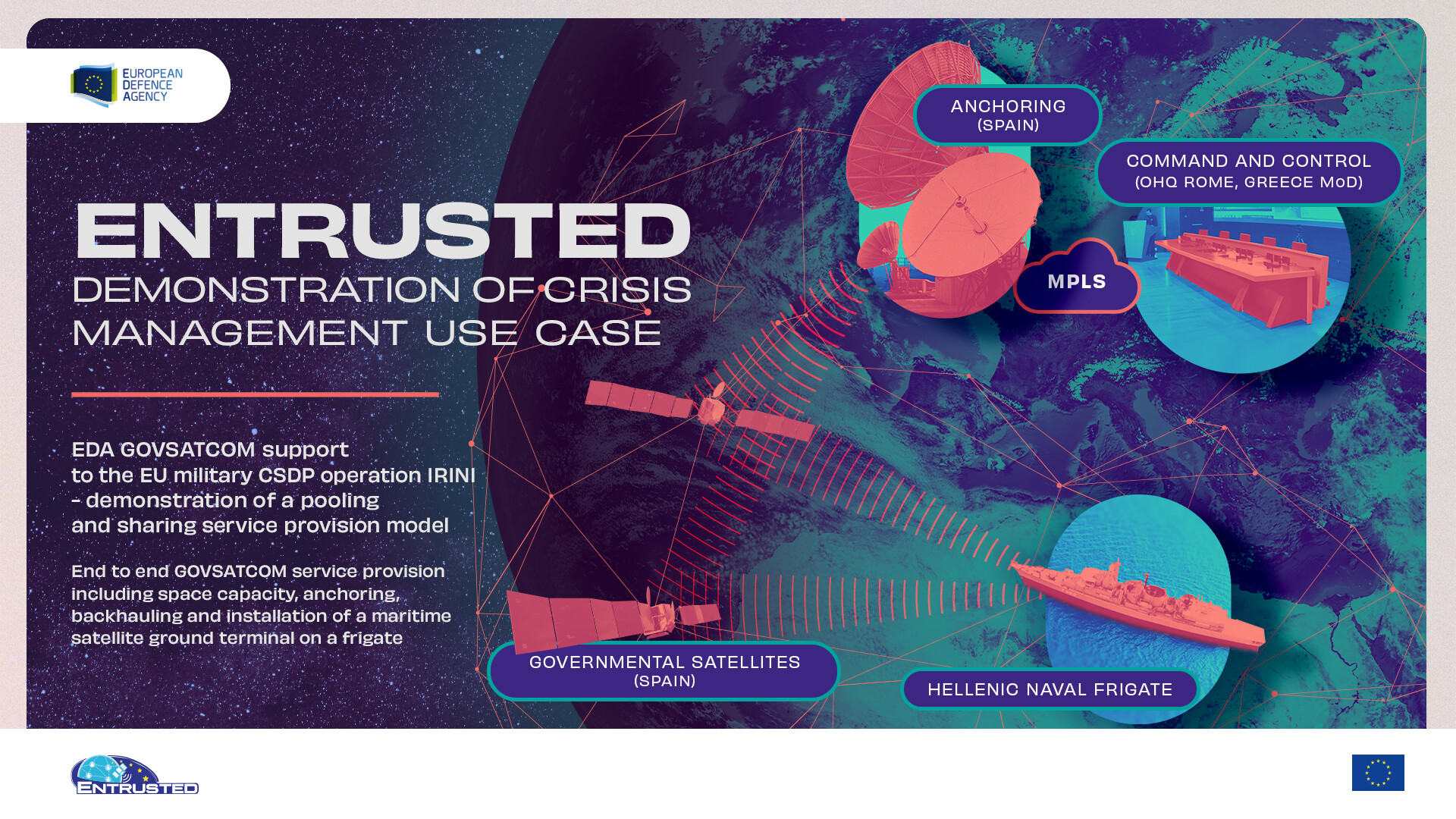 In the initial stage, the EU GOVSATCOM will be implemented based on the pooling & sharing of national satellite capacities provided by Member States. EDA has implemented the GOVSATCOM Demo Project for several years now. Using SatCom resources sourced from France, Italy, Luxembourg and Spain, EDA provides Ministries of Defence from 18 Member States with a quick and easy access to secure and guaranteed SatCom services.
EDA has demonstrated the provision and use of secure communications during the EU CSDP military operation EUNAVFOR MEDIRINI (European Union Naval Force – Mediterranean):
This mission is mandated to carry out inspections of vessels on high seas off the coast of Libya, suspected to be carrying arms or related material to and from Libya.
The Hellenic Navy required secure satellite-based communication services to interconnect with the CSDP operation Headquarters in Rome and the Hellenic Ministry of Defence in Athens.
EDA provided not only the end-to-end service, including the governmental SatCom capacity in X-band sourced from XTAR-EUR and Spanisat, but also anchoring services, backhauling services and tailored training for the operators.
In addition, SatCom maritime ground terminal was installed on the Hellenic frigate.
Crisis management missions supported by EDA Member States and European CSDP actors highlight the value of dual-use systems and solutions (i.e., satellites and space technologies) which can be used for both civil and military purposes. GOVSATCOM will address specific demands of an intermediate market, differentiated from the commercial satellite communication (COMSATCOM) market and the highly protected military satellite communication (MILSATCOM) capability.
---
Live satellite connectivity (by Italy and Luxembourg / ASI & LSA)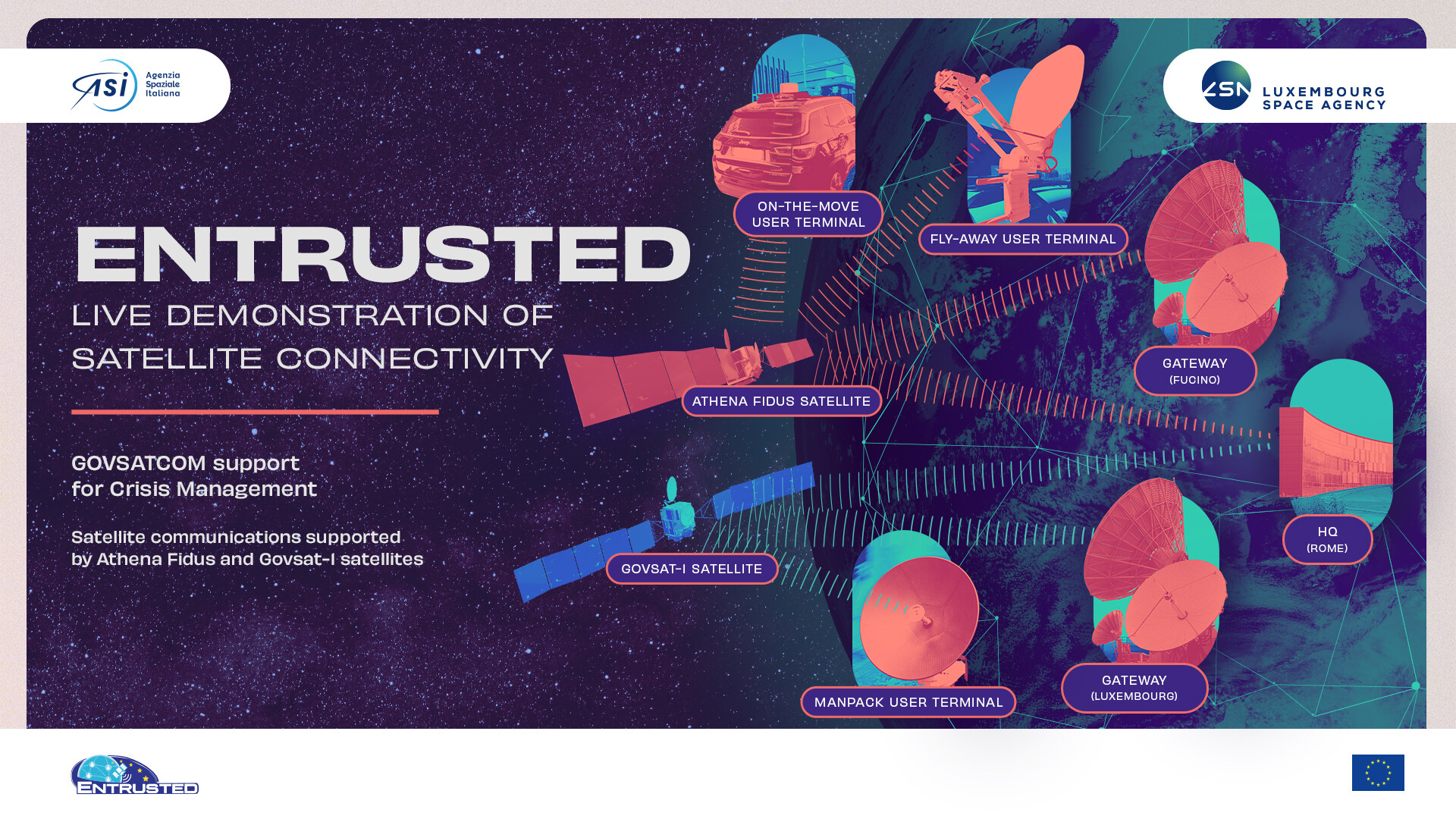 The live demonstration took place at the premises of the Italian Space Agency in Rome. Two types of terminals were displayed:
On-The-Pause (SOTP) – a manpack for civilian and military operations operating in X-band – presented by LuxGovSat, and a transportable vehicle-mounted terminal with a VSAT antenna operating in Ka-band – presented by Telespazio. The antenna dish of SOTP terminals needs to be pointed directly to the satellite during the entire operation.
On-The-Move (SOTM) – a vehicle-mounted mobile terminal operating in Ka-band, presented by Telespazio. This mobile system supports connectivity and simultaneous voice and data communications while the vehicle is moving.
The live demonstration scenario aimed at showcasing a seamless service provision in an emergency field with communication links established with two different satellites and bands, i.e., X-band and Ka-band. This was an example of a back-up redundancy in terms of channelling, but also an answer to different physical characteristics and weather conditions.
The manpack terminal was connected to the GOVSAT-1 satellite, while both vehicle-mounted terminals  were connected to the Athena Fidus satellite. Satellites were connected with their respective gateways in Luxembourg and Italy. The GOVSAT-1 gateway was also connected via a terrestrial network with the Fucino Space Centre (data centre). ASI conference room played the role of a coordination centre that manages and monitors operation in the field (i.e., operation HQ).
The first part of live demonstration took place in a conference room. Participants could observe and interact with persons from the Fucino Space Centre and users of terminals located outside of the building. Hence, it was demonstrated that terminals allowed to communicate with the coordination centre and provided internet connection for various kinds of communication applications in the field.
The second part of demonstration was conducted outdoors. Wi-Fi bubbles generated by all terminals allowed participants to stay connected using their smartphones while moving around the demonstration area.
---

Over 100 participants from 16 EU Member States and 11 EU institutions and agencies attended the Live Demonstration Event, which was organised by the ENTRUSTED Consortium and hosted by the Italian Space Agency (ASI) at their headquarters in Rome on 2 March 2023. This hybrid event gathered representatives of almost 60 different institutions embracing national authorities and actors managing security-critical missions and infrastructures within the EU.

Since the beginning, the EU GOVSATCOM has been based on the concept of pooling and sharing of existing capacities (i.e., GEO satellites) owned by EU Member States. The Live Demonstration Event proved that this is possible. In addition, it provided an opportunity to discuss some aspects related to a GOVSATCOM hub – e.g. provision of the service, assurance and availability of terminals, use of different bands, coverage to establish a communication network.
First GOVSATCOM services using shared satellite resources will be available in 2024.
For more information about the ENTRUSTED Live Demonstration Event, please visit our Events section.
Demonstration videos and related presentations will be published on the ENTRUSTED e-learning platform to enrich the training content on secure satellite communications for governmental users.