Date: April 12, 2023
Category: Events
Autor: Ewelina Kaatz-Drzeżdżon and Szymon Grych
Making GOVSATCOM services efficient, compliant with the actual requirements and easy-to-use on a daily basis requires consistency in raising awareness of its various benefits, unique features and functions among prospective users and other stakeholders across the EU. That is where ENTRUSTED project comes in with its knowledge-sharing activities. Live Demonstration Event which took place on 2 March 2023 at the headquarters of the Italian Space Agency (ASI) in Rome gathered over 100 participants from 16 EU Member States and 11 EU institutions and agencies.
The deployment of secure SatCom services in operational environment was presented for selected use cases based on national capabilities provided by Consortium members. That created the opportunity to present the pooling & sharing service provision model, provision of highly secure telecommunication services in terms of confidentiality, integrity and availability, as well as rapid and easy deployment of terminals.
Participants of the Live Demonstration Event were presented with 3 demonstration videos documenting real-time satellite connectivity in particular operation scenarios and witnessed live satellite connectivity established with Athena-Fidus and GOVSAT-1 satellites and various user terminal showcased at ASI's premises: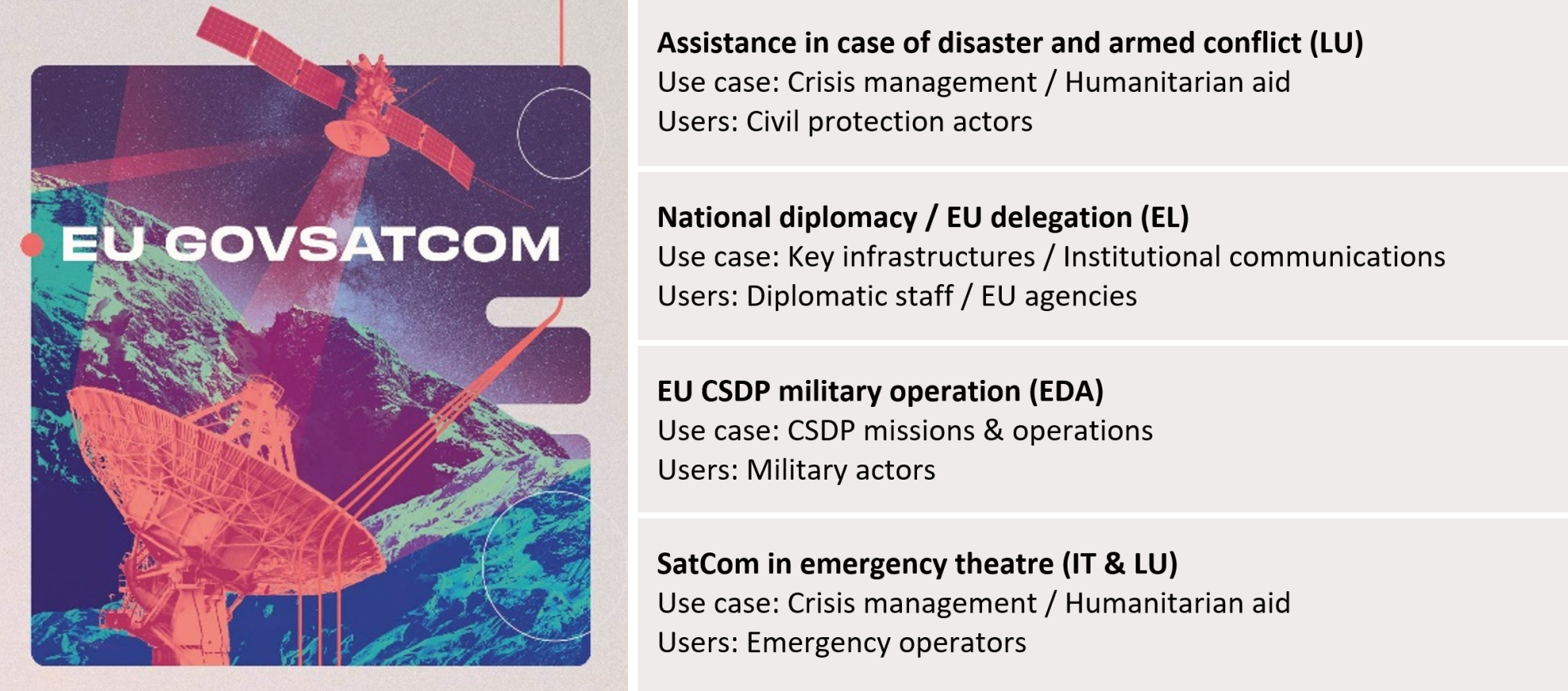 Detailed description of ENTRUSTED demonstrations is provided in the Demonstration section.
Live Demonstration Event was addressed to the representatives of the Network of Users (NoU), as well as to the current and prospective users of GOVSATCOM services, national experts and decision-makers invited by the members of the ENTRUSTED Consortium. The demonstrations triggered an effective and meaningful discussion on different aspects of secure satellite connectivity. In this way, sharing experience drew attention to more specific user expectations.
During the welcome session, Giuditta Montesanti – Project/Programme Officer at DG Defence Industry and Space (DEFIS), emphasised that the ENTRUSTED project is perceived as the starting point of the journey aimed at understanding the needs of user communities regarding secure satellite communications. Montesanti pointed out to the core concept of the GOVSATCOM initiative which is the pooling and sharing of existing capacities (GEO satellites). In addition, Montesanti remarked that the European Commission considers SatCom as key technology in the near future. Due to recurring and detrimental natural disasters observed in the EU territory and increased frequencies of crisis situations (e.g., the war in Ukraine), as well as dramatic increase in cyber security issues, governmental actors will need to rely on more secure service providers.
Flavio Sbardellati – EUSPA Market Development Technology Officer, reminded that the ENTRUSTED project was prepared back in 2018, before the COVID-19 pandemic and the new Secure Connectivity Initiative of the European Commission. Sbardellati argued that information provided by users allowed for developing a better understanding of what GOVSATCOM services should be like and defined them accordingly. He explained that demonstrations of satellite connectivity prepared by ENTRUSTED capitalise on work performed in the scope of project.  
To engage the participants, irrespective of their expertise, and give them the opportunities to ask questions or share remarks, a Q&A session took place after each demonstration and a moderated interactive session was held in the second part of the Event.
Both onsite and online attendees were invited to take part in live polls, which generated vivid  discussions on such issues as the integration of legacy communication systems with GOVSATCOM services, or driving factors, barriers and technological trends that affect the use of GOVSATCOM services. Other debated topics included the type of terminals required by user communities and technological gaps that should be urgently addressed.
Poll results - Live Demonstration Event 
---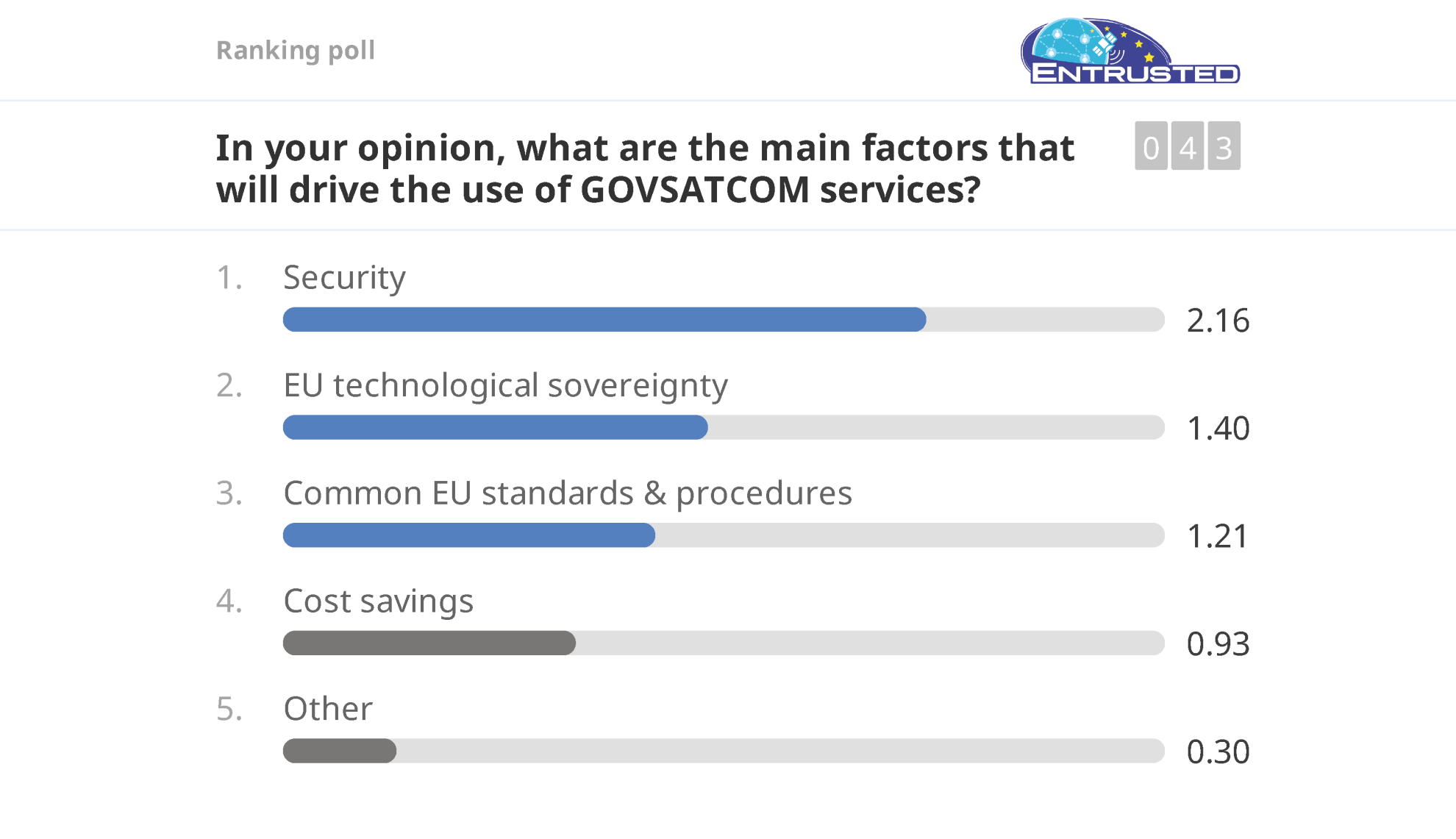 ---
The feedback obtained from participants during the Live Demonstration Event and in subsequent evaluation survey confirmed a pressing need for additional GOVSATCOM demonstrations to increase the visibility of GOVSATCOM services and show system performance.