Date: December 15, 2021
Category: News
Autor: Ewelina Kaatz-Drzeżdżon
The European Union Governmental Satellite Communications (GOVSATCOM) initiative aims at providing governmental users from EU Members States and EU agencies and institutions with access to secure and cost-effective communications capabilities. Future GOVSATCOM services should comply with user requirements to the maximum extent. This requires having a comprehensive overview of the governmental and institutional users of secure SatCom services, their current and evolving needs and use cases. A user consultation process, which has been carried out within the ENTRUSTED project, is expected to play an instrumental role in capturing user expectations regarding core features and aspects of GOVSATCOM.
User consultations were preceded by a critical review of GOVSATCOM user needs and use cases presented in available reports, including the High Level Civil Military User Needs for Governmental Satellite Communications (HLUN) document, as well as by internal consultations within the Network of Users (NoU). The Consortium has identified over 450 entities which represent potential users of GOVSATCOM services in the EU. To analyse their needs, two types of questionnaires were developed for a survey study. One questionnaire was prepared for users with no previous experience in the use of secure SatCom services but would be interested in accessing them in the future. The other questionnaire was designed for collecting information from experienced users.
The ENTRUSTED Consortium, with the support from external collaborators, conducted the survey study among prospective GOVSATCOM users between April and July 2021. The survey was carried out among governmental and institutional users, who were requested to specify their needs and expectations regarding the anticipated GOVSATCOM capacities, services and their attributes. An essential part of the survey study focused on security-related issues.
Eventually, 155 users took part in the survey and returned completed questionnaires, who represented the following user communities:
Border authorities
Maritime authorities
Civil protection
Key infrastructure operators
Military forces
Humanitarian aid
Law enforcement bodies
EU external action, and
Others.
Some respondents informed about their interest and needs referring to general fields of application, such as surveillance, crisis management and critical infrastructures. Others were very specific and informed about concrete uses cases. The survey collection process and some statistics on survey respondents are presented in the infographics below.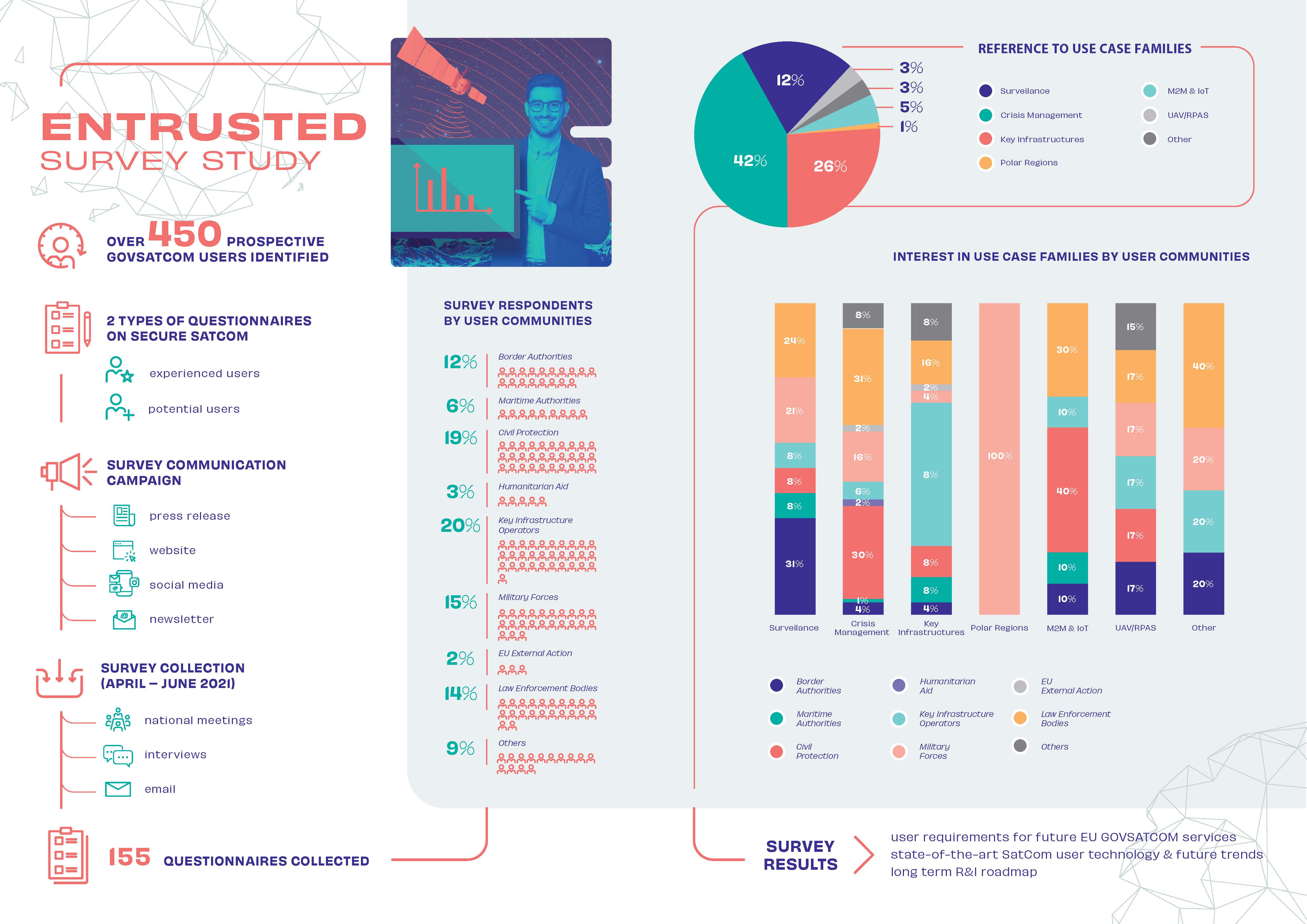 The ENTRUSTED survey study provided a unique opportunity for governmental and institutional users, both inexperienced and experienced in accessing secure SatCom services, to share their expectations regarding future GOVSATCOM services and key features. Answers collected from respondents are being currently aggregated and analysed. Survey results will be presented in the form of a consolidated set of user requirements concerning the provision and access to GOVSATCOM services. These requirements will represent the user perspective and indicate market conditions that drive them.
Understanding user requirements is indispensable for the development of a user-oriented GOVSATCOM service portfolio. Requirements derived from the ENTRUSTED survey will be listed in a User Requirements Document (deliverable D2.3), which will be completed in the beginning of 2022. This document will include sensitive information and its dissemination will be restricted in line with the recommendations by the European Commission.